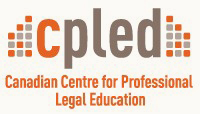 The Canadian Centre for Professional Legal Education (CPLED) Program is the bar admission course in Alberta, Manitoba, and Saskatchewan.
In Alberta, the Legal Education Society of Alberta (LESA) delivers the CPLED program on behalf of the Law Society of Alberta.
2017/2018 CPLED Program
Registration for the 2017/2018 year is now closed. Students applying after May 31, 2017 are subject to a non-refundable late filing fee. Contact Craig Edhart for information.
You can apply to the CPLED Program before you have completed the requirements to be admitted as a student-at-law. Prior to commencing the CPLED Program, however, you must have student-at-law status. Applications for admission to the Law Society of Alberta as a student-at-law are handled by Membership Services at the Law Society of Alberta. For more information, please visit www.lawsociety.ab.ca.
Please review the following information regarding the 2017/2018 year:
Click here to pay your tuition by Visa or MasterCard.
Learn what it takes to become a successful articling student from the Honourable Justice J.E.L. Côté.
Watch a short presentation on the 2017/2018 CPLED Program below.
In some cases, students may have individual needs that necessitate an accommodation, an excused absence, a deferral, scheduling change, or a withdrawal from the CPLED Program. More information about these options can be found in the Student Guide. To submit an application for your individual need, complete the applicable form below:
For questions about the CPLED Program, contact Craig Edhart.