Webinar on Demand – Business Fundamentals for Lawyers Part 1: Introduction to Financial Statements
$125.00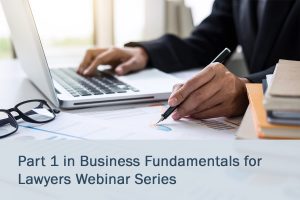 Original Date: October 27, 2020
Price: $125 + GST
Presenter: Darrell Wiens, CPA, CA, MNP LLP
Learn to read and understand company financial statements. Gain basic financial literacy, learn the components of financial statements and how apply that knowledge to real life examples. This Webinar on Demand also reviews the various accounting frameworks and the types of assurance that accountants can provide.
---
Please enter the first name, last name, and email of the person who will be viewing the Webinar on Demand in the billing details section on the next page.
If multiple lawyers or staff members in your firm would like to purchase this Webinar on Demand or Webinar on Demand series, please contact Craig Edhart or Carolyn Bernardin for pricing.
Please note: The views and opinions of the presenters are their own and do not necessarily reflect the views or opinions of the Legal Education Society of Alberta.