Webinar on Demand – Civil Litigation Series Part 4 – Standing, Conflicts and Litigation Representatives in Estate Litigation
$95.00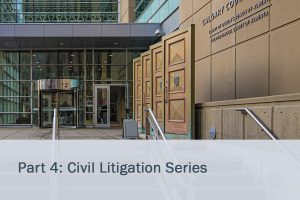 Original Date: February 4, 2021
Price: $95 + GST (Save $255 when you purchase the 10-part Webinar on Demand Civil Litigation Bundle)
Chair: Françoise H. Belzil, Biamonte LLP
Presenter: Victoria Jones, de Villars Jones LLP
Explore key aspects of estate litigation. Oftentimes, a representative is asked to wear more than one hat; be it executor, spouse, parent, or more. Consider how to navigate the potential conflicts and issues that can arise in light of this. This Webinar on Demand discusses topics such as whose name to put on the court document, who you need to serve, and who has the right to participate in court proceedings. Walk away with a greater understanding of estate litigation and gain valuable tips to benefit your practice.
Total Running Time: 0 hours, 59 minutes
---
Please enter the first name, last name, and email of the person who will be viewing the Webinar on Demand in the billing details section on the next page.
If multiple lawyers or staff members in your firm would like to purchase this Webinar on Demand or Webinar on Demand series, please contact [email protected] for pricing.
Please note: The views and opinions of the presenters are their own and do not necessarily reflect the views or opinions of the Legal Education Society of Alberta.