Webinar on Demand – Labour & Employment Update 2021 Part 1
$195.00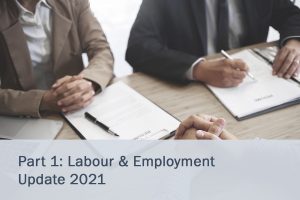 Original Date: February 23, 2021
Price: $195 + GST (Save $45 when combined with Labour & Employment Update 2021 Part 2)
Chair: Teresa Haykowsky, McLennan Ross LLP
Presenters: Craig W. Neuman QC, Neuman Thompson; Clayton Cook, McGown Cook Barristers & Solicitors; Michael Gottheil, Alberta Human Rights Commission, Chief of the Commission and Tribunals; Melissa Luhtanen, Alberta Human Rights Commission; and Jean Torrens, MLT Aikins LLP
Explore an update on human rights. Consider potential future implications on workplace safety, employer rights, disability, and more arising from the current global pandemic. Hear about the changes at the Alberta Human Rights Commission with Michael Gottheil, Chief of the Commission and Tribunals.
Topics:
Human Rights Update
Poor performance and human rights' complaints
Sexual harassment claims
Case law update on the duty to accommodate
Impact on the work environment in light of the Black Lives Matter movement
Family status discrimination
Case law update on damage awards
Changes at the Human Rights Commission 
Panel Discussion on COVID-19 Related Matters
Workplace safety during COVID-19: the right to refuse unsafe work
Constructive dismissal in a global pandemic
Employer rights in vaccinating employees
Disability due to general stress
Future implications arising from the current global pandemic
Total Running Time: 3 hours, 21 minutes
---
Please enter the first name, last name, and email of the person who will be viewing the Webinar on Demand in the billing details section on the next page.
If multiple lawyers or staff members in your firm would like to purchase this Webinar on Demand or Webinar on Demand series, please contact [email protected] for pricing.
Please note: The views and opinions of the presenters are their own and do not necessarily reflect the views or opinions of the Legal Education Society of Alberta.