Webinar on Demand – Labour & Employment Update 2021 Part 2
$195.00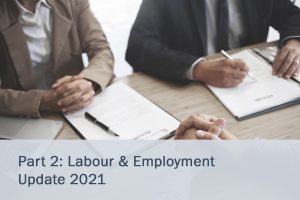 Date: March 9, 2021
Time:  12:00 PM– 3:30 PM
Price: $195 + GST (Save $45 when combined with Labour & Employment Update 2021 Part 1)
Chair: Teresa Haykowsky, McLennan Ross LLP
Presenters: Justice Kevin P. Feehan, Court of Appeal of Alberta; Alison Adam, McLennan Ross LLP; Steve Eichler, Field LLP; and Kelli Lemon, Seveny Scott
Discuss updates to employment law and recent amendments to the Occupational Health and Safety Act with seasoned faculty. Also consider "A View from the Bench" with Justice Kevin P. Feehan.
Topics:
Employment Law Update
Case law update on employment law issues
Termination pay
Proper draft of employment clauses
Wrongful dismissal damages
Liability for unauthorized overtime
Mitigation and fixed term employees
Constructive dismissal
A View From the Bench
Occupational Health and Safety Update
Recent amendments on Occupational Health and Safety Act
Recent sentencing developments
Work refusals and health and safety during COVID-19
Total Running Time: 3 hours, 46 minutes
---
Please enter the first name, last name, and email of the person who will be viewing the Webinar on Demand in the billing details section on the next page.
If multiple lawyers or staff members in your firm would like to purchase this Webinar on Demand or Webinar on Demand series, please contact [email protected] for pricing.
Please note: The views and opinions of the presenters are their own and do not necessarily reflect the views or opinions of the Legal Education Society of Alberta.