Webinar on Demand – Rules of Court 2020 Part 1
$195.00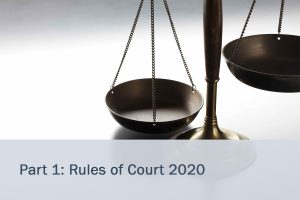 Original Date: November 4, 2020
Price: $195 + GST (Save $45 when combined with Webinar on Demand – Rules of Court 2020 Part 2)
Chair: Darren J. Reed, Fasken Martineau DuMoulin LLP
Presenters: Gunnar Benediktsson, Norton Rose Fulbright Canada LLP; Kelly Osaka, Dentons Canada LLP; and Cassandra Sutter, Jensen Shawa Solomon Duguid Hawkes LLP
Concrete knowledge of the Rules of Court is critical for every litigator. Revisit the "must-know" rules, consider recent judicial treatment of select rules, and discover practical tips for running effective litigation files.
Topics
Pleadings and discovery
Effective use of expert witnesses, and the rules relating to experts, in both the pre-trial and trial context
The "drop dead" rule and dismissal for long delay
---
Please enter the first name, last name, and email of the person who will be viewing the Webinar on Demand in the billing details section on the next page.
If multiple lawyers or staff members in your firm would like to purchase this Webinar on Demand or Webinar on Demand series, please contact [email protected] for pricing.
Please note: The views and opinions of the presenters are their own and do not necessarily reflect the views or opinions of the Legal Education Society of Alberta. While we do our best to ensure quality, technology is not always 100% reliable. This recording contains a minor audio glitch.