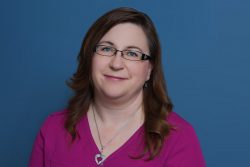 Trish
Cochrane
Education Coordinator
Direct: 780.969.0556
Trish Moore is one of LESA's Education Coordinators. A mom of 7 children, Trish has taken part in many volunteer opportunities, including with the Ronald McDonald House, Make-a-Wish Foundation, and the Hair Massacure.
Trish's academic career led her to receive a Teacher's Assistant Diploma with Distinction. She also has many years of experience as an event coordinator, more of which was with Canadian Blood Services.
A well-organized team player, Trish coordinates a variety of LESA programs for the Alberta legal community. From AV and venue set up to organizing program registrants and much more, she ensures that our programs run seamlessly.
Trish also has a strong desire to travel, and though her dream trip is constantly changing, she would love to take her whole family on a tropical, all-inclusive vacation. In her spare time, Trish enjoys spending time with her family, watching movies, playing board games, and being a taxi mom to all of their activities.