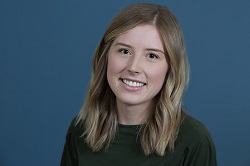 Online Programs Coordinator
Rhiannon graduated from the University of Alberta with a Bachelor of Arts degree in 2017. During her time there, she majored in Human Geography and minored in History. Before joining the LESA team, Rhiannon spent the better part of a year working in New Zealand for an online education company, creating Geography lessons for Australian high schools.
During her first two years at LESA, Rhiannon was the Education Coordinator for the CPLED Legacy Program. As Education Coordinator, she created schedules, provided materials, and assisted Learning Group Facilitators and Learning Groups Evaluators with anything they needed.
Rhiannon is very excited to have transitioned into a new role at LESA as Online Programs Coordinator. In this position. Rhiannon is responsible for planning and developing online programming, such as online courses, livestream webinars, and seminars on-demand.
Outside the office, Rhiannon is passionate about music and the arts in Edmonton. She volunteers as Secretary for the Edmonton Symphony Orchestra & Winspear Centre's Young Leadership Council. Rhiannon has also sung in choir for most of her life and enjoys singing in an adult community choir and volunteering with a children's choir. On the weekend you can often find Rhiannon, her husband, and dog, Olive, going to farmers markets and discovering new neighbourhood restaurants and coffee shops!