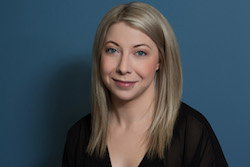 Andrea
Maltais
Communications Coordinator
Direct: 780.969.0555
Andrea Maltais is one of LESA's Communications Coordinators. With an undergraduate degree in Professional Communications, Bachelor of Applied Communications in Professional Writing, and Diploma in Professional Writing, Andrea is passionate about the written word and enthusiastic about making her mark in Edmonton's business scene.
Outside of the office, Andrea enjoys traveling with her family and friends. She has been all over North America and Europe including Costa Rica, Mexico, Sweden, Iceland, Scotland, the Netherlands, Italy, and many states in the U.S.
During her academic ventures, Andrea was able to volunteer her time and expertise with some of Edmonton's not-for-profit organizations, including the Greater Edmonton Foundation (GEF) Seniors' Housing and the Neighbour Centre. She also has training and experience in various areas of communications including, instructional design, crisis communications, strategic communications, corporate narrative, policy and procedural writing, educational consultation, curriculum development, social media networking, and more.
As Communications Coordinator, Andrea toggles many marketing and communications tasks. A typical day for Andrea includes blogging and keeping up with LESA's online social network; drafting, editing, and publishing LESA's seminar brochures and other promotional materials; interviewing seminar chairs, instructors, and LESA volunteers; developing marketing strategies, tools, and tactics; maintaining the LESA website; and even dabbling in a bit of graphic design.
What Andrea enjoys most about working at LESA is the flexibility and work-life balance that LESA strives to provide employees. She also appreciates the range of skills she is able to employ in her daily tasks and, of course, loves working with a team so devoted to professional development and forming long-lasting, positive relationships. In the office's coffee versus tea debate, Andrea is team coffee through-and-through!