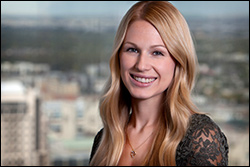 Resource Coordinator
Ashley has been part of the LESA team since she graduated from NAIT in 2009. Her positive attitude, willingness to be a team player, and adaptability to change have served her well in the many different roles she's filled here. In the past, Ashley has worked on our print publications as well as with the CPLED facilitators, evaluators, and students.
Currently Ashley enjoys her role as the Resources Coordinator where she helps get our print and online materials ready for you to use.
In LESA's ongoing coffee-versus-tea debate, Ashley falls into the tea camp. And if there's one quirky thing you should know about Ashley, it's that black pepper is too spicy!
Outside of work, Ashley loves to relax by going to the lake and taking her dog on walks. She's also very close with her siblings; her brother and 2 sisters were able to stand up with her at her wedding in Mexico, and yes – her brother was a bridesman. Although one thing Ashley likes best about working at LESA is her awesome coworkers, she also loves taking time off with her husband to go visit family in Vancouver and Arizona.