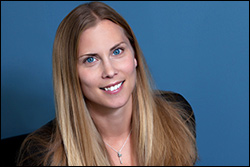 Executive Director
Christine has been an invaluable member of the LESA team since 2010. She began her work with LESA as the Associate Director for Educational Resources and has served as our Interim Executive Director and Counsel since May of 2018. Now, Christine conitnues her excellent service to LESA in the role of Executive Director
In addition to Christine's outstanding contributions to LESA, she comes to the Executive Director position with solid educational credentials. In 2003, Christine earned a Bachelor of Commerce followed by her Bachelor of Laws from the University of Alberta in 2006. She then earned her Masters of Law from Columbia University in 2010 as a Harlan Fiske Stone Scholar.
Throughout Christine's tenure at LESA she has consistently brought a wealth of knowledge, experience, and leadership. She has the unique ability to understand the needs of LESA clients, the legal community, and the LESA team.
When we asked Christine what her favourite thing we've done (or eaten) as a team was, she responded, "Pie of course! I love that LESA has its own special tradition for the celebrations of our team and our team members." She also loves anything chocolate, so in the office's veggie-versus-sweets debate, Christine is on team sweets!
As a mother of 2 and wife to her wonderful husband, Christine has plenty to keep her busy outside of the office. She also enjoys baking, cooking, and relaxing with a good book and a glass of wine. In her spare time, she volunteers with the Lendrum Community League on the Playground Redevelopment Committee to help raise money for a new neighbourhood splash park. She is also president of the board at her daughter's preschool.