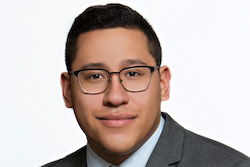 Emerson
Flores
Integration Assistant
Direct: 780.969.0550
Awarded the Jason Lang Scholarship twice during his time at NAIT, Emerson achieved his diploma and undergraduate degree in business administration majoring in accounting. He also made the Dean's honor roll for numerous semesters.
Before joining us at LESA in October 2015, Emerson worked summers at a satellite Crystal Glass location repairing windshields. Now an integral part of our LESA team, Emerson's daily tasks as an Integration Assistant include balancing online orders, entering receivables and payables into accounting programs, opening and delivering mail, applying cheque payments, and assisting with various ongoing projects around the office.
Though Emerson is a very analytical individual with a brain wired for numbers, he has an out-of-office side like the rest of us! In his spare time, Emerson enjoys going to the gym, watching movies and TV shows, working on his car when the weather is nice, and spending time with his close circle of friends.
Emerson's work ethic is strong and he enjoys that LESA provides the opportunity to apply his educational skills. However, his passion for travelling is also strong. Emerson has been to Disney World 4 times and has also vacationed in Hawaii. In addition, he is not hesitant to admit that he can eat a box of donuts with no regrets.