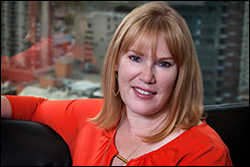 In-Person Program & Event Delivery Lead
Kathy received her CMP (Certified Meeting Professional) designation in 2000. Before becoming a part of the LESA team in 2006, Kathy gained experience a corporate planner, an independent planner, and a not-for-profit planner. She also worked at the Shaw Conference Centre as one of their event planners.
Kathy's organizational skills, attention to detail, and ability to think and plan long term are crucial to our success at LESA. As our Meeting & Relations Coordinator, Kathy manages the logistics associated with the face-to-face CPLED modules, including preparing class lists, sending materials to print, and creating schedules. She also books all of the venues for our live events and assists the Executive Director in arranging travel, meetings, and other board related activities.
Outside of the office, Kathy enjoys making homemade cards and spending time walking outdoors. She also loves getting together with her girlfriends for their clothing club. Aside from her obvious talent in crafting, Kathy's secret talent is writing poems, of which she has had two published.
Kathy is an all-around family woman and looks forward to the monthly family dinners at her mom's place. She also enjoys spending time with her adult children and says, "It has been wonderful to hang out with them and get to know them as adults." In the future, Kathy would love to travel to Hawaii and Europe, and, of course, as a Disney lover, she always looks forward to her next trip to Disneyworld.