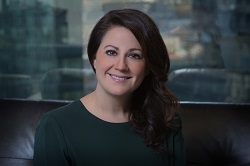 Resources & Publications Lawyer
Before pursuing her interest in law, Kelsey received a Bachelor of Arts in Psychology with Distinction from the University of Alberta. During her undergraduate degree, she completed the Cooperative Education Program in Psychology, which involved a year-long work placement at the Edmonton Drug Treatment and Community Restoration Court. She then continued on at the University of Alberta to earn her Juris Doctor. While completing her degrees, Kelsey worked as a research assistant in an addiction and mental health laboratory at the university. She also volunteered with Student Legal Services, was an editor and committee member for the Alberta Law Review, and served as a board member on the University Appeal Board.
Kelsey began her journey with LESA as a summer student. After articling and working at a large Edmonton law firm, primarily in litigation, she rejoined LESA as a Staff Lawyer on our legal team in 2015. Kelsey enjoys many things about the job, including her friendly co-workers and being able to delve into so many different areas of law. As she puts it, "I'm always learning new things, which I love."
Kelsey's work days vary, but a typical day involves a lot of reading, writing, and research. Part of her role involves providing input from a legal point-of-view, which translates into reviewing and working on LESA's publications and seminar materials; staying current on developments in legislation, jurisprudence, and the legal community; advising on legal content and questions; and assisting with the CPLED Program.
In her downtime, she likes to watch movies, spend time with friends and family, travel, play soccer, and walk her dog. Kelsey also has a quirky side that includes a fascination with sharks. She even co-authored and published a paper on shark conservation in the Journal of Environmental Law and Practice.