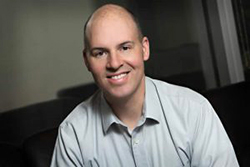 Director of Programs
Born and raised in Edmonton, Matt Sommerfeldt is LESA's Director of Education. Matt has a Bachelor of Education, in Secondary Education, with Distinction (University of Alberta 2001); experience as a high school Spanish and English as a Second Language (ESL) teacher (Calgary, AB, 2001 – 2004), Bachelor of Laws (University of New Brunswick, 2007), general practice of law at Richard A. Low & Company, LLP (Lethbridge, AB, 2008 – 2014), and experience as Legal Counsel at Court of Queen's Bench of Alberta (Edmonton, 2014 – 2016).
In addition to Matt's education and experience, his top 3 assets to the LESA team include strong interpersonal skills, integrity, and a passion for both education and law. These assets give Matt what it takes to do his job both efficiently and effectively, including overseeing educational programming and resources, setting proposed learning outcomes, assigning project responsibilities for LESA staff and volunteers, and recruiting chairs and faculties for programs.
Outside of the office, Matt enjoys spending time with his wife and three kids. He also devotes his time to volunteer with the J. Reuben Clark Law Society, is an active member of The Church of Jesus Christ of Latter-day Saints, and enjoys travelling to some of his favorite vacation spots – Atlantic Canada and England.
One of Matt's life-goals is to publish a book after retirement, which he insists is many, many years away. In the office's coffee versus tea debate, Matt is on neither team, preferring hot chocolate – or anything chocolate really.