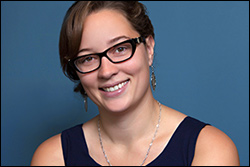 Strategic Initiatives Coordinator
Born and bred in rural Alberta, Renee enjoyed a 2-year hiatus from prairie life when she went to Vancouver Island to earn her Masters of Arts in English from the University of Victoria. Some of the best perks of Island life include hiking along the ocean, hearing the waves roll in on the beach, and seeing orcas in those rare but glorious stolen moments when English students get their noses out of the books and themselves off of campus.
Deciding to return to Edmonton was no easy choice (who wouldn't want to live where the cherry trees bloom in February!), but in 2014 she made her way back to the prairies and found herself enjoying an incredible job at LESA.
Variety is one of the things Renee most enjoys about working at LESA. She also loves the opportunity to use the skills she honed in her years as an English student. While her love of Victorian literature is now pursued in her off hours, the attention to detail and high-level writing skills that saw her through months in the archives flipping through 19th century newspapers and then writing up her research results certainly come in handy at LESA too.
Aside from the work itself, Renee also loves the flexibility in work-life balance that LESA offers their staff, the team camaraderie, and the ways that LESA gives back to the community (volunteering at Santas Anonymous with other staff is just one highlight!).
When she's not busy in the office, Renee enjoys spending time with her daughters and outdoors-loving husband, playing board games, hitting the pool for lane swim or Aquabox class, and baking (or eating!) anything with chocolate in it. She also likes picking up the knitting needles and letting the creative juices flow. Maybe in another 70 years she'll be just as good as her great-grandmother, who first taught her how to cast on.