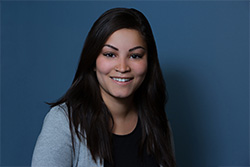 Education Assistant
Clarice joined our LESA team in March, 2017. Prior to LESA, she worked with the Government of Alberta in the Human Services Ministry, and she is currently finishing her final year of studies at MacEwan University in the Correctional Services program.
A very creative person who loves coming up with new concepts and ideas, Clarice thrives when presented with new learning opportunities. She brings a high level of customer service knowledge from past job experience and never leaves a job unfinished.
Clarice's position at LESA is very much dedicated to the work involving our educational programming. A typical day for Clarice involves processing incoming orders, corresponding with program faculty, formatting and revising program materials, scheduling material shipments, coordinating material print dates, and tracking registrations.
Outside of the office, Clarice enjoys spending time with her family and friends—summer BBQ's, festivals, going to cafés and trying new teas, and more. She also loves to travel, when her schedule allows it. Some of her favorite travel destinations are California, New York, Florida, and Mexico.