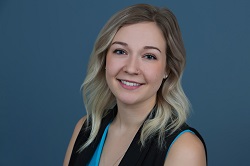 Programs Administrator
Gina graduated on the Dean's list from MacEwan University with an Office Administration certificate. As one of LESA's Education Assistants, Gina is one of the first lines of customer service. A typical day for her also includes formatting materials, preparing pre and post-program faculty correspondence, uploading materials to the LESA website, registering customers into programs, and making sure everything is running smoothly for upcoming programs.
In the coffee versus tea debate, Gina is camp coffee. Since she started with us in July 2018, her favorite thing we've done as a team was attending the International lunch held at the Sutton Place Hotel, where you could choose between Italian, Greek, Indian, or Chinese food…ALL in one meal!
When we asked Gina what she enjoys most about her job, she expressed her love for the diversity of responsibilities. She told us, "There's always something new to learn because every email and phone call is different. Keeps you on your toes!"
Outside the office, Gina enjoys reading, thrift shopping, and going to café's to try new foods. She enjoys vacationing in Arizona during the holidays and taking weekend trips to Banff. Gina was also lucky enough to have the opportunity to travel to Japan where she walked up Mount Fuji.
In the future, Gina's goal is to continue to learn, whether it to be learning new languages or new skills. She also hopes one day to learn Norwegian and would love to travel there.