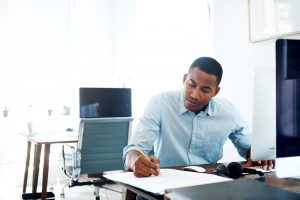 Effective writing skills are critical for lawyers and their staff. Take part in an interactive workshop to improve your legal writing through hands-on practice and individual feedback.
---
For the first time, LESA will be holding this program in a flipped-classroom format. This format requires participants to view resource materials online in the LESA Classroom and complete pre-course work, including writing practice, prior to attending the program.
We recently chatted with LESA's Dr. Allison Fieldberg to learn a bit more about the program and about the flipped-classroom format. Here's what she had to say.
Topics
One of the goals of this program is for participants to begin to recognize their particular writing style and to identify the strengths of that style and the areas for growth. They will learn what they need to do to increase the clarity, concision, and effectiveness of their writing. Instead of a lecture on specific content, this program is more skills-based. Participants will learn how to revise their writing based on an end goal of producing writing that has greater overall effectiveness and persuasiveness."
Flipped-Classroom 
My philosophy of writing is that you do not become a better writer by talking about it, and you don't learn to become a better writer by listening to someone talk to you about writing. You become a better writer by writing. It is a skill like learning to golf, paint, or bake. You have to practice it to get better and the flipped-classroom approach allows for program time to be very practice-based. Participants will review content areas and fundamental background information about writing ahead of the day so they can arrive on the day ready to practice the skills and get individualized feedback. There will be very limited time in the program where participants will listen to me talk about writing."
Program Benefits
One of the immediate benefits is bringing to the forefront of your mind the particular characteristics of your writing that need to be improved. I think attendees will find that the program offers the opportunity to develop the skill of self-assessment. Attendees will take a look at a piece of their writing, and within a short period of time, they will be able to zero in on what needs to be fixed and what could be better."
Program Takeaways
I think participants will be able to make some really great connections with other people in the room while demystifying the writing process. There will be an emphasis on collaboration, exchange, and peer revision and I think that's the direction that the legal profession is going."
Register Online
This program has limited enrolment. Register online today to attend Effective Legal Writing in Edmonton (September 15) or in Calgary (September 22). View the program brochure to learn more.