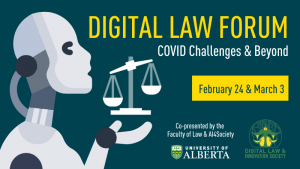 The Digital Law Forum is just around the corner! This upcoming online event runs February 24 and March 3 and is co-hosted by the University of Alberta Faculty of Law, AI4Society and the Digital Law & Innovation Society. Explore the current challenges and opportunities that digital technologies pose for decision-making in the judicial and executive branches of government. Consider risk and responsibility associated with AI, opportunities and benefits of digital technologies on the public, and the role of academics and practitioners in advancing justice in a digital age.
February 24 | 12:00 – 1:00 PM MT
Professor Argyri Panezi
Liability for AI: An Ecosystem Approach
February 24 | 5:00 – 6:00 PM MT
Pia Andrews, Special Advisor – Digital, Employment & Social Development Canada, Government of Canada
Artificial Intelligence, Administrative Law & Governance
March 3 | 1:00 – 2:00 PM MT
Panel: Jason Fung, Counsel, Government of Alberta & Blair Neufeld, Innovation Lead, Digital Innovation Office, Government of Alberta
An Alberta Perspective: Digital Infrastructure & Legal
March 3 | 5:00 – 6:00 PM MT (Open discussion, requires registration)
Hosted by Pia Andrews and Professor Péter Szigeti (University of Alberta Faculty of Law)
AI, Law & Governance Challenges in Focus: Regulating Critical Digital Infrastructure
Click here for details.
___
If you are interested in technology and the impact on the legal profession, be sure to check out LESA's upcoming Alberta Legal Technology Conference. Chaired by Martin Kratz QC, this 8-part lunchtime webinar series will discuss topics such as Artificial Intelligence, Cyber Insurance, Cloud-Based Wills, and more. Save $165 if you sign up for all 8 sessions before May 13th. Can't make a date? Don't worry, registration automatically includes access to the recordings so you can watch and learn at your convenience.