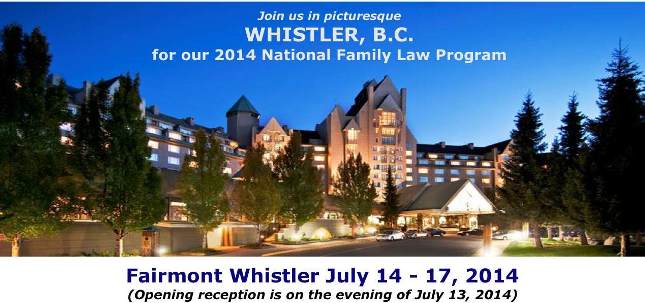 Federation of Law Societies of Canada
2014 National Family Law Program
The National Family Law Program is offering a five day conference featuring a multitude of presentation topics concerning family law, such as "Deconstructing the Trust: Issues in Matrimonial Property Claims" and "Adult Children of Divorce Share Their Stories: What They Want Lawyers to Know."  For program information, click here.
First offered in 1978, the 2014 National Family Law Program will take place in beautiful British Columbia at the iconic Fairmont Chateau Whistler Hotel and Conference Center. Registration fees include entry into workshops, plenary sessions and all program materials. Moreover, this program will be submitted for accreditation in all MCLE and MCPD jurisdictions.
Register now for the 2014 National Family Law Program.
Early Bird Online Registration Deadline April 1 2014
For more information on topics, online registration instructions, conference information updates, Fairmont Chateau Whistler special conference rates and link to hotel, tourism and travel please refer to the
Federation of Law Societies of Canada website, here.