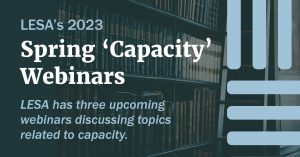 LESA is broadcasting three capacity-related webinars this spring. Scroll below for webinar details and links to register.
Date: April 25, 2023
Time: 12:00 PM – 1:00 PM
Price:  $95 + GST
Chair: John E.S. Poyser, The Wealth and Estate Law Group
Presenters: Ryan Gorlick, Tradition Law LLP and Dr. Arlin Pachet, Pachet Assessment and Rehabilitation Services
Alcohol impacts will-making and gift-making in a variety of ways:
It can cause or exacerbate dementia
A person who is actively drinking can be too inebriated to make a will
An alcoholic who is sober can suffer from delirium tremens (withdrawal symptoms)
A promise of alcohol might amount to undue influence
Join presenters Ryan Gorlick and Dr. Arlin Pachet, along with moderator John E.S. Poyser, to learn more about the impacts of alcohol usage on legal capacity. This webinar is intended for those with a baseline knowledge on the law of capacity.
Date: May 11, 2023
Time: 12:00 PM – 1:00 PM
Price:  $95 + GST
Presenters: Jennifer R. Lamb, Carscallen LLP and Paul E. Reid, Carscallen LLP 
Determining whether a client has capacity to retain and instruct counsel is an essential part of a lawyer's professional responsibilities. Join us to learn more about the legal tests for (1) capacity to retain legal counsel, and (2) enforceability of a retainer agreement where the client's capacity is at issue.
Date: June 1, 2023
Time:  12:00 PM – 1:00 PM
Price:  $95 + GST
Chair: John E.S. Poyser,  The Wealth & Estate Law Group
Presenters: Nathan Herrmann, University of Toronto, Faculty of Medicine and Roger Lee, DLA Piper 
A will, gift, or other juridical act is void if driven by a delusion as to fact, motive, or character. This webinar will explore the legal and medical definitions of "delusions" and address the practical implications that may result from the differences between these definitions.
____
LESA is pleased to offer reduced pricing for junior lawyers (called to the bar within the last five years) as well as for law students and students-at-law. Newly called lawyers automatically receive 10% off their registration fees for these programs and students automatically receive 25% off.
If multiple lawyers or staff members from your firm would like to register for our or more of the above noted programs, please contact [email protected] for pricing. To receive discounted group pricing, you must contact us prior to the first registration from your firm. Discounted group pricing applies to multiple registrations for the same program.