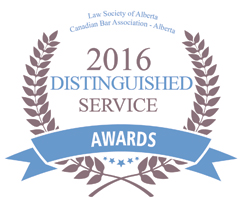 Yesterday the Law Society of Alberta and CBA Alberta announced the 2016 Distinguished Service Award Recipients. These annual awards recognize outstanding members of the legal profession in four key areas.
Congratulations to the 2016 Distinguished Service Award recipients:
As an organization that couldn't operate without the support of our volunteers, LESA understands and appreciates the incredible amount of dedication, time, and effort that so many lawyers pour back into the profession and the community.
With our roughly 600 volunteer placements a year, we have the opportunity to work with many of you, and we're particularly excited to see two of our active supporters honoured as 2016 award recipients. Both Christine Pratt and Michelle C. Christopher have been involved in the CPLED Program for several years. Congratulations to you both!
Thank you to everyone who gives back to the profession. In particular, we offer a hearty thank you to all of the award nominees and kudos to each of the 2016 Distinguished Service Award recipients.
We're looking forward to offering our congratulations again during the official awards ceremony at the upcoming Alberta Law Conference. If you're also attending the conference, make sure you stop by our LESA exhibitor booth to say hi and pick up your coupon for incredible savings on our programs and resources.