Learn to navigate the LESA Library with ease!
If you are new to the LESA Library, or if you are a seasoned subscriber and wish to learn a little more about how you can effectively search and find materials on the LESA Library, this post is for you. Scroll below for tips and pointers to effectively and efficiently get the most out of your LESA Library subscription.
Logging into the LESA Library
LESA Library subscribers can access the LESA Library by clicking "My Library" under "LESA Library" on the top navigation bar on LESA.org webpages or via this URL: https://www.lesaonline.org/lesa-library/

You must be logged into your LESA.org account to view LESA Library materials. Your login page can be found on the top right corner of the LESA.org webpage, or you can login here.
Your username will be your email
If you forget your password, you can reset it here.
LESA Library Homepage
From the homepage of the LESA Library, you can search for materials several different ways. We have a filter menu that allows you to choose one, or several, search parameters to narrow down your results, a search bar that allows you to type in a specific search term, and clickable blue boxes that take you to the landing pages of each of our eight collections where you can explore available resources from each area of law. Note: blue boxes are only clickable for the area(s) of law you have subscribed to.
Using the "Search the Library" Search Bar
Using the search bar in the filter menu, you can type in a specific term to search the LESA Library for materials related to your chosen term.
Using the Filter Menu
Alternatively, you can filter your search results by selecting one, or several, criteria on the filter menu to set parameters and narrow down your results. Select for area of law, content type (paper, publication, or precedent), author(s), and/or publication year(s), and then click "Apply Filters". Select "Legal Support Staff" to view all materials relevant to legal support staff roles.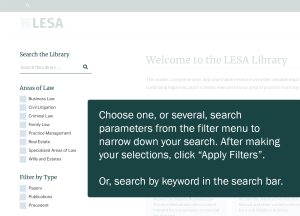 Area of Law Landing Pages
Using the Blue Boxes
To view all available resources from a particular area of law, click the area of law box you're interested in from the LESA Library homepage.
Clicking one of the blue "area of law" boxes on the LESA Library homepage will take you to an area of law landing page displaying all available resources within that collection. The top of the page will always contain the relevant publication(s) from your chosen area of law.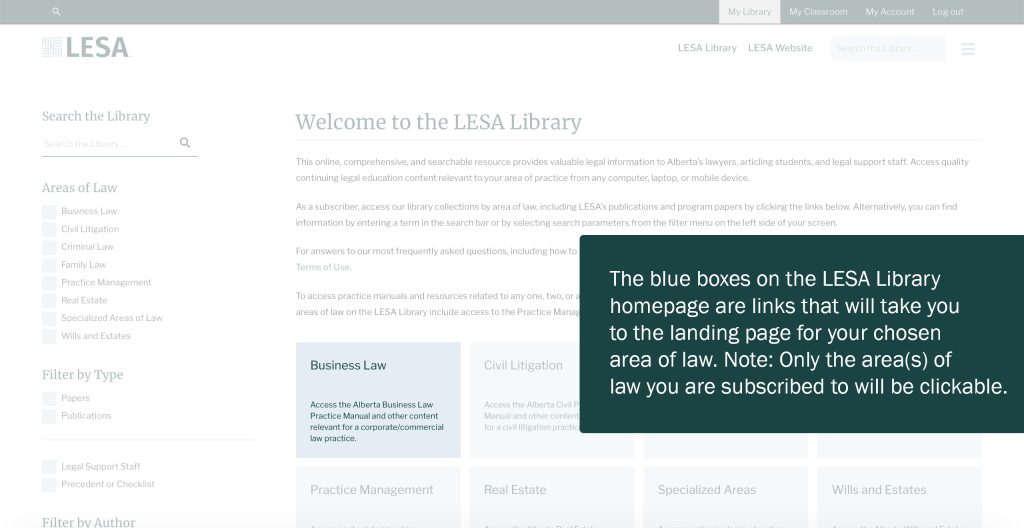 Below the publication link, there are expandable menus of sub-topics. When the sub-topic menus are clicked and expanded, you will see papers related to the sub-topic under your chosen area of law.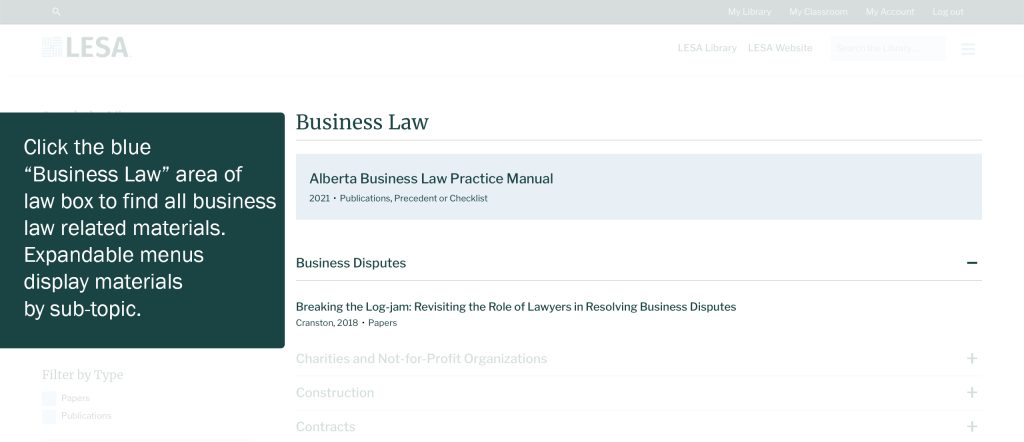 Narrowing Down Your Search Results
Once you have completed a search, either through the filter menu or through the search bar, you can use the "Sort by" tool to narrow down your results. In the picture below, we searched for the term "divorce", and filtered the results to "family law" resources only, plus filtered the publication date range to be within 2017-2021. The default sorting option will put the most relevant results at the top (i.e. the resources that reference that term the most often, or have it in the title). On the righthand side, you can switch the sorting options to sort alphabetically, or by publication year.

Practice Manuals
To reach our practice manual publications, you can:
Select "publications" from the "Filter by Type" category and your search results will populate with all available LESA publications (from the area(s) of law you are subscribed to).
On the homepage, click the area of law (blue box) that you're interested in. The publication(s) from your chosen area of law will be visible at the top of the page.
PDF Viewer
When you click on a paper/publication, it will open via an online PDF viewer. Papers can be printed and downloaded via the print/download buttons on the righthand side of the PDF viewer. Note: Publications cannot be printed or downloaded and will not have these buttons.
There is also a button to view the PDF of a paper or publication in full screen mode.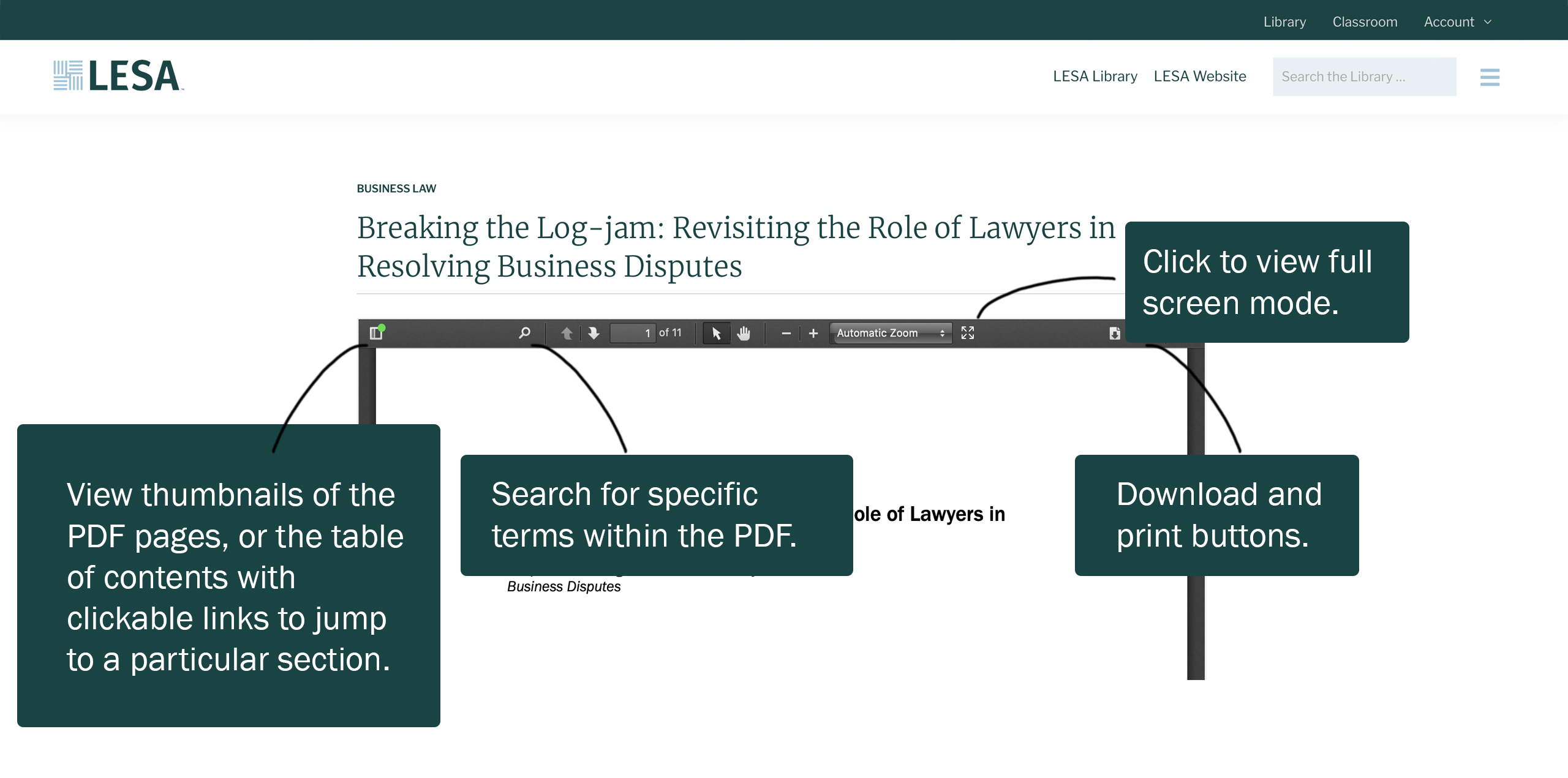 Precedents, Checklists, and Documents
Search downloadable precedents, checklists, and documents by area of law. As a complete LESA Library subscriber, you can access nearly 1,000 precedents, checklists, and documents as part of your annual subscription. Previously, these handy resources were included as appendices to papers and publications, making them a bit harder to find in search results. Now, these documents are also available as their own separate files (primarily in Word) and categorized by area of law.
 Easily recognize resources with precedents. All precedents, checklists, and documents available on the LESA Library will include this icon beside the title, giving a visual cue to help you find what you are looking for.
How do I search for precedents on the LESA Library?
There are multiple ways that you can search and filter for precedents:
Select your chosen area of law in the "Precedents" drop-down menu in the top right corner. You will then see a complete list of all available precedents within that area, organized by sub-categories.
You can also use the filter menu on the left-hand side to find precedents. Check off the "precedent" box to narrow your results to only show precedents. Enter a key term, or filter by area of law, to further narrow down your search results.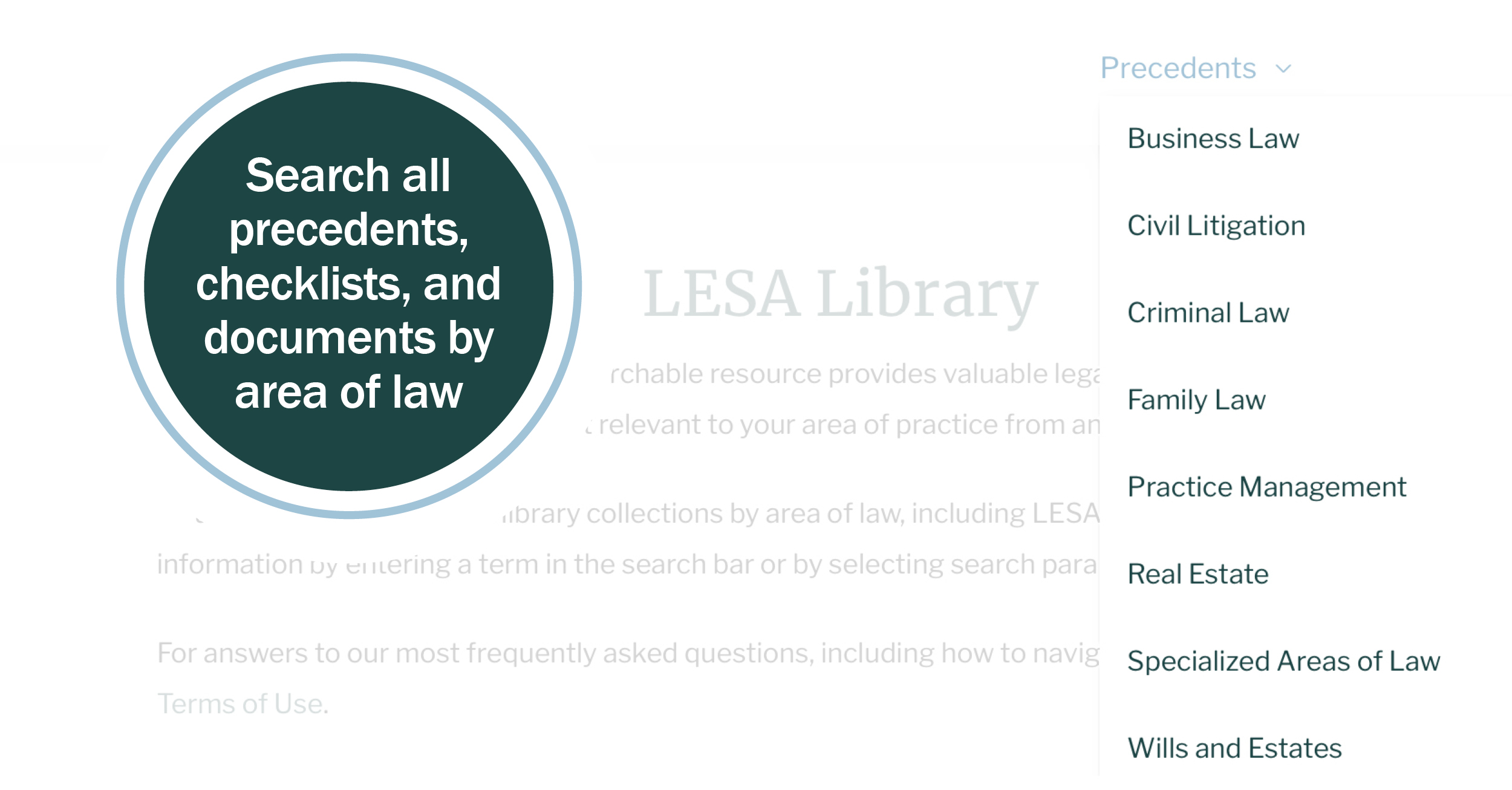 Can I download precedents for everyday use?
All precedents, checklists, and documents are available for you to download, save, and print for use in your everyday practice. Files are primarily available in Word.
Which precedents do I have access to?
As a complete LESA Library subscriber, you can access nearly 1,000 precedents, checklists, and documents as part of your annual subscription. Access files from all six core areas of law. Subscribers of one or two areas of law have access to precedents categorized by the areas of law to which they are subscribed. If you are interested in upgrading your subscription to the complete LESA Library, feel free to send us a note at [email protected].
Practice Manual and Paper Appendices
Publications and papers containing precedents/samples/checklists will have these files included within their appendices. The appendices are downloadable, printable, and are found underneath the PDF viewer for the publication within an expandable menu titled "Appendices". Expanding this menu will open a list of appendices for that publication or paper, usually in Word doc version.