LESA is one lucky organization to have a team of incredible staff. In continuing our post series featuring the individuals who make up the LESA staff, we'd like to shine the spotlight today on Kathy Fortier, LESA's Event Delivery and Business Development Lead. This past December 2021, Kathy celebrated her 15 year anniversary working for LESA. She been an event and meeting planner for the last 28 years and earned her Certified Meeting Professional (CMP) designation in 2000. Before coming to LESA, she was a corporate, not-for-profit, and independent planner. She has planned and executed some amazing events which have included celebrity fundraisers, large corporate team building events, weddings, corporate holiday parties, national and international conferences, company launches, business meetings, graduations, and more. She has attended many world education conferences for meeting professionals held in various locations throughout Canada and the United States.
Kathy started with LESA in December of 2006 as the Programs Coordinator. Her role has changed and evolved from working primarily with in-person LESA programs, to adding CPLED programs, and to recruiting volunteers for all of the CPLED Face2Face programs. Her organizational skills, past experience in executing and organizing meetings and events, as well as the relationships she has built over the years with various contractors, venues, and volunteers has contributed greatly to the success of LESA events. She is also heavily involved in LESA's Refresher and Intensive Advocacy programs.
"Both programs offer not only fabulous learning, but we also have so many highly respected individuals that give graciously of their time to participate. I love being on-site and getting the chance to know our volunteers on a more personal level."
Most recently, as LESA has been offering more and more programs online throughout the pandemic, Kathy has become involved in the planning and hosting of lunchtime webinars. In addition to launching webinars and livestream programs, there have been some big changes over the last year at LESA, including the launch of the new brand, new website, and the all-new LESA Library. Kathy has become involved in hosting live demos of the  LESA Library and thoroughly enjoys the opportunity to speak with lawyers to show them the great features of the LESA Library, and how they can access quality resources at the press of a button.
Outside of the office, Kathy spends a lot of her free time enjoying her beautiful acreage outside of the city. Currently there are no family pets other than the moose, deer, and coyotes that frequent her yard. Kathy's dedication and goal-oriented mindset has led her to complete three Conquer Quest challenges and her sixth half marathon.
"Each day I move my body, I colour in a day in the calendar. It is very motivating to see the days that I known I've done something good for myself."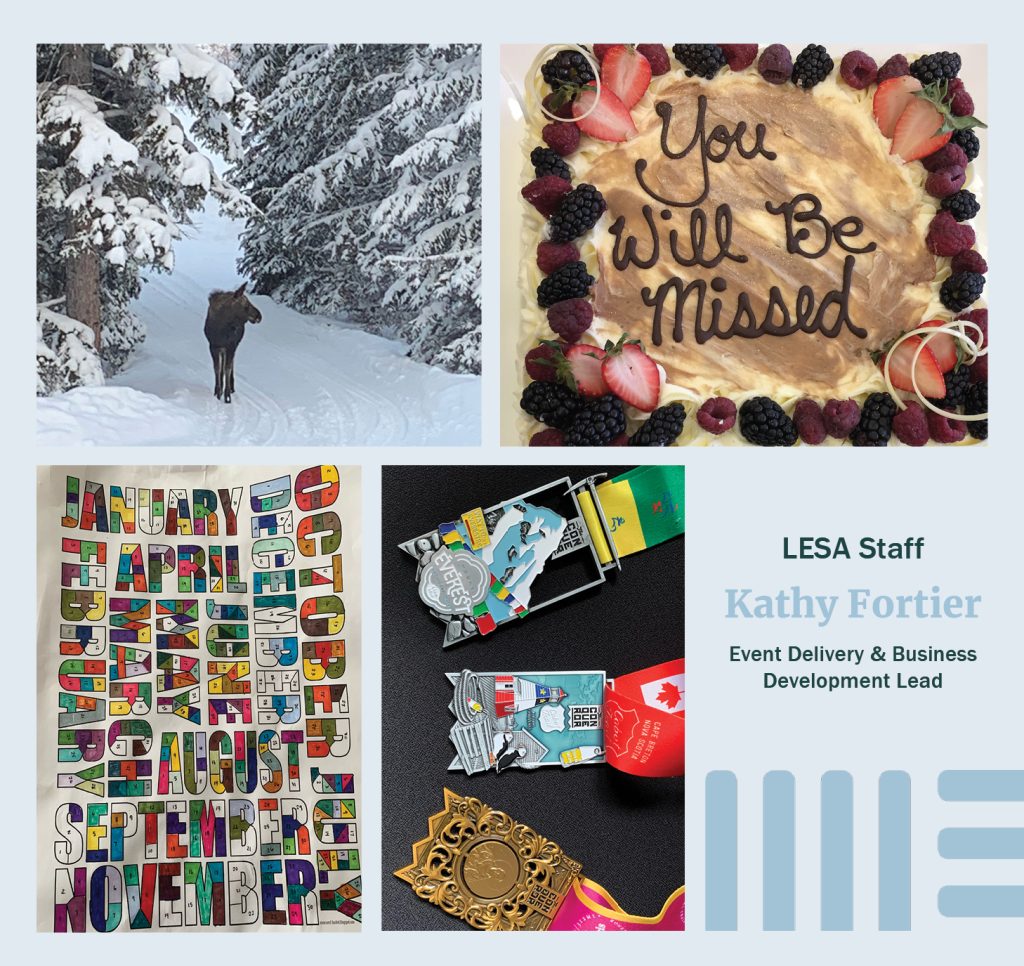 Kathy also enjoys working in her yard, tending her flowers, listening to worship music or different podcasts, and attending her daughter's weekly yoga classes.
When asked which career highlights come to mind throughout her time at LESA, Kathy notes:
"It would definitely be the relationships I've built with both our volunteers, contractors, and staff. The kindness that so many vendors have shown us over the years has been heartwarming. It was touching to receive a beautiful cake from the Shaw Conference Centre on our last CPLED Face-to-Face session. Moments like those, I treasure. One other highlight – meeting Justice Suzanne Côté and being invited for a private tour of the Supreme Court of Canada."
From all of us at LESA, thank you Kathy for all that you bring to the team.  Your dedication and passion for your work is inspiring. LESA is lucky to have you. Looking forward to the next 15 years!