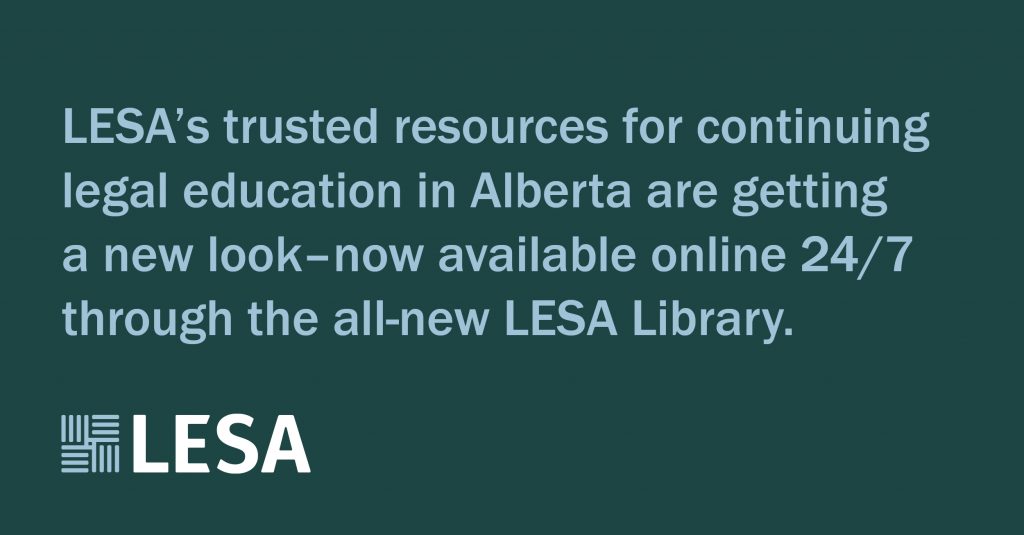 You may have already heard…  we have just launched an all-new LESA Library. This online, comprehensive, and searchable resource provides valuable legal information to Alberta's lawyers, articling students, and legal support staff.
With its improved navigation and enhanced search functionality, including full-text search, the LESA Library is your go-to source for electronically accessing top-notch continuing legal education resources.
Brand new easy-to-navigate user interface
Improved searchability, including full-text search
View publications and papers on an interactive PDF viewer
Downloadable appendices (forms, checklists, and precedents)
Newly added content including our first-ever Alberta Business Law Practice Manual
With the launch of the new LESA Library, and the features and benefits it offers our valued customers, we have decided to transition away from offering electronic resources via USB. Technology is continually evolving; USBs are not as commonly used anymore, and some computers are hitting the market without even the option of a USB port. Therefore, to continue to provide you with quality electronic resources that are easily accessible across any device, we are now exclusively offering electronic versions of our publications on the LESA Library.
As a practice manual subscriber to a single manual, your cost is $545. Did you know that you can subscribe to a single area of law as an individual user for just $495/year or $45/month for an annual subscription. Personalize your LESA Library subscription to access all areas of law, or just your specific area of practice. With added subscription options, you can access quality continuing legal education content in a way that best suits your needs. Subscriptions are available for business law, civil litigation, criminal law, family law, real estate, and wills and estates. Plus, as a LESA Library subscriber, you also get access to hundreds or past program papers as well as checklists, editable samples and precedents, and fillable forms.
As an added bonus, all subscriptions include practice management and specialized areas of law content.
For details and LESA Library subscription options, click here.
If you have any questions, we always love to hear from you. Please send us a note at [email protected]