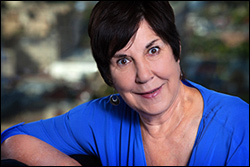 Event & Customer Experience Coordinator
Carolyn is a LESA veteran. She's been part of the LESA team for over 25 years! Anyone who's had the pleasure of working with her will tell you that that in the LESA coffee-versus-tea debate she falls strongly into the coffee camp. And if you want to get on Carolyn's good side, you can sweeten her up with … you guessed it … garden fresh tomatoes, because Carolyn absolutely loves her veggies.
Her work experience before coming to LESA – as a registered psychiatric nurse and as a sales associate for a tour company, to name just two examples – has been as varied as the roles she's filled in our organization. In her current role as Information Specialist, Carolyn wears many hats. She's a primary customer service contact, answering questions that come in on the main phone line, processing registrations, and collecting receivables. She also works with firms and organizations who sponsor our programs and is actively engaged in developing communication and marketing strategies to spread the word to the profession about the diverse range of LESA's seminars and resources.
Perhaps it's all the variety that has kept Carolyn hooked for so long. She loves that no 2 days are ever the same, and her ability to embrace change is one of the biggest assets she shares with LESA. Carolyn is always on the hunt for new ways to inform the Alberta legal community about all that LESA has to offer.
What else do you need to know about Carolyn? Cooking, gardening, and reading are her favorite hobbies. She also loves vacationing in Vegas and enjoys spending time away from the office volunteering at the Food Bank. Some of her future goals include going on an African safari and meeting Oprah Winfrey.