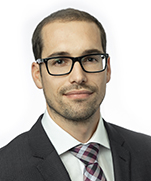 Navigating tax disputes can be complicated, due in part to the intricacies of the CRA's processes and framework. We are looking forward to hearing from Gergely Hegedus, partner at Dentons, at our upcoming webinar on the topic.
Gergely has litigated matters before several courts, including the Court of King's Bench of Alberta, the Tax Court of Canada, the Federal Court, and the Federal Court of Appeal. He has extensive experience as legal counsel in the Tax Law Services Section of the Department of Justice Canada.
Gergely will present on essential topics to help you effectively deal with tax disputes in your practice, including:
Dealing with CRA audits and establishing a record
How to challenge an assessment by filing a notice of objection
The process of appealing to the Tax Court of Canada
Grab a lunch and join us at noon on April 12. For additional details, or to register, click here.
If multiple lawyers or staff members from your firm would like to register for this program, please contact [email protected] for pricing. To receive discounted group pricing, you must contact us prior to the first registration from your firm.