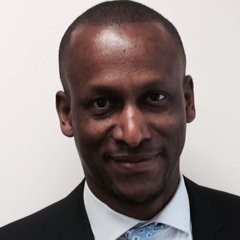 As a mentor and leader in the Alberta legal profession, Kene Ilochonwu is dedicated to making a difference. Born and raised in Nigeria, Kene obtained his law degree from Nigeria and was called to the Nigerian Bar. He subsequently obtained a Master of Laws degree (LL.M) from the University of Strathclyde, Glasgow, before moving to Calgary in 2007. Having relocated to Canada, Kene started his career in supply chain/procurement and by the time he was ready to return to the legal profession, he proceeded to the natural fit in corporate commercial law.
Kene was first inspired to practice law when seeing the discrimination and human rights abuses in Nigerian society, and the lack of resources to provide legal services to people awaiting trial. That, as well as a love for all things legal. As an articling student, Kene started encouraging fellow articling students (some of whom were internationally trained) and notes that he had several great mentors to offer guidance and direction to him as he was starting out in Canada.
"I had a lot of great mentors. Sometimes, I was lucky to be at the right place at the right time. Providing mentorship is the right thing to do for the current and future generation of lawyers, it just is. The terrain can be tricky and rough, and I want to guide others, the same way I was guided."
The mentorship Kene received propelled him into a career where his dedication to the legal profession and tenacity to lead are evident. As the first elected Black Bencher for the Law Society of Alberta, Kene is motivated to help integrate internationally trained lawyers, to remove the obstacles that make justice out of reach for those who cannot afford it, and to pave the road ahead for new lawyers just starting out.
"I would like to see more foreign trained lawyers (and all lawyers for that matter), getting involved in mentorship. The more mentors, the more the knowledge spread, and the more impact on the mentee pool."
Kene is dedicated to making positive contributions to the Alberta legal community and happily notes that many law firms and corporations are increasing the diversity of their lawyers and in-house counsel. However, many job postings still indicate the requirement for a Canadian law degree or law degree from an accredited law school. Kene is hopeful that one day, job postings would simply require that applicants be called to the Alberta bar, thus eliminating discrimination of internationally trained lawyers in the application process.
When asked what the seat at the Benchers table means to him, Kene responds by saying,
"It means that I have been given an opportunity to make a difference. This is a huge weight on young shoulders; however, I have the support and prayers of a lot of people inside and outside the legal profession and can only be successful if I continue to do my best."
LESA wishes to thank Kene for his contributions to the Alberta legal community. If you are currently involved in a mentorship relationship, or interested in getting involved in mentorship, you may be interested in the Principal Training Course developed by The Law Society of Alberta and the Legal Education Society of Alberta. This course includes eight lessons covering such topics as how to be an effective mentor, dealing with difficult conversations, discrimination and harassment laws, cultural competency, and how to support your articling student through their articling term. While designed for principals, this course is valuable to anyone in a mentorship or supervisory role, or for those who may consider being a principal in the future. You may also be interested in the Law Society of Alberta mentorship programs.