As a LESA Library subscriber, our bet is you are one happy camper right about now! The LESA team spent countless hours reimagining the site map and structure for the LESA Library to create a platform that offers intuitive navigation, enhanced searchability, and subscription options tailored more specifically to your unique needs. We are quite happy with how it all turned out, but we'd love to hear what you think. If you have any questions or feedback for us, please send us a note at [email protected] or leave us a comment on social. We are dedicated to offering you quality continuing legal education content that you can access quickly and easily.
Interactive PDF Viewer
One of the new LESA Library features is an interactive PDF viewer integrated right into the LESA Library platform. This allows you to:
Easily access publications without needing to download, update, or worry about using a separate PDF reader
Utilize the "Find in Document" feature to perform a full-text search within a PDF
Zoom in and out of the text to suit your device
Utilize bookmarks to navigate a document
Access publications or papers across any computer, tablet, or mobile device
Tips for Using the Interactive PDF Viewer
Here are some suggestions for searching in the PDF reader (see below for a visual reference as well):
On the left-hand side of the PDF reader's top navigation bar, there is a square icon. Click that, and then click the icon with the lines to see a list of links to each chapter in the PDF.
The top navigation bar has a magnifying glass. This will activate the "Find in Document" function. If you click the icon you can enter the term you're looking for and it will select every instance that this term appears in the PDF.

When you encounter a chapter or manual table of contents in a PDF, every chapter and subsection listed will be clickable. When you hover over the section you wish to navigate to, you will see the text highlight with yellow. Clicking the highlighted text will allow you to navigate directly to that part of the PDF.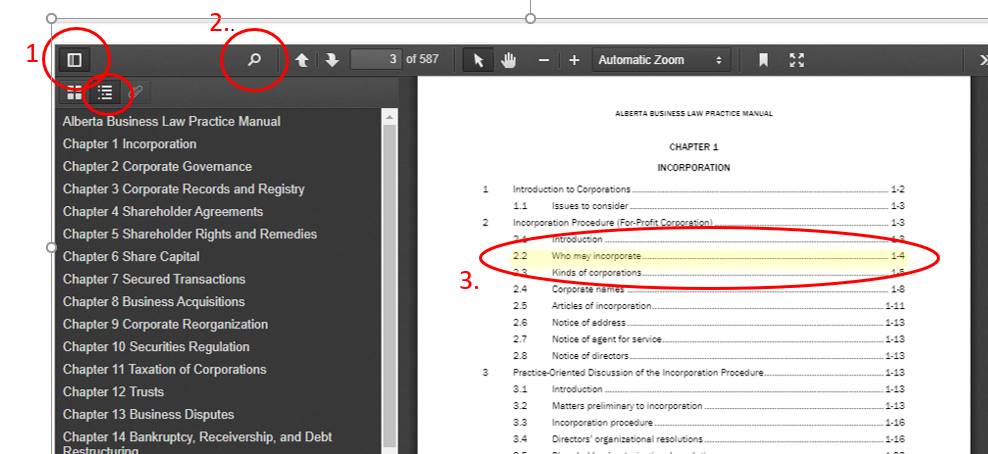 If you are already a LESA Library subscriber, we'd love to hear what you think! Send us a note at [email protected]
If you are not yet a subscriber and would like additional details on subscription options and pricing, please visit LESA.org/library