We are happy to announce a new benefit for subscribers of the LESA Library. Whether you subscribe to one, two, or all six core areas of law, we are pleased to offer you 50% off our entire collection of on-demand programs.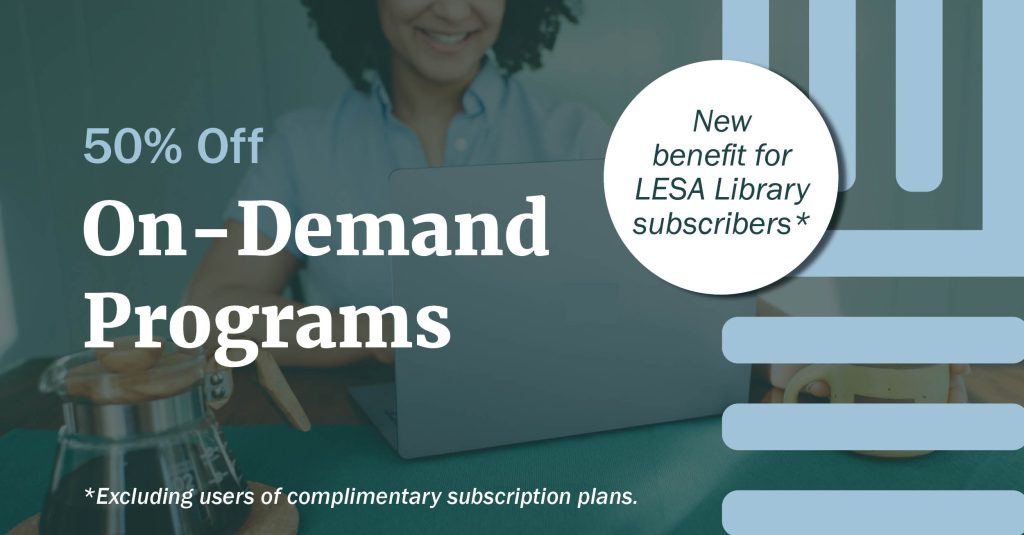 What are On-Demand Programs?
LESA's on-demand programs are recordings of past programs delivered live (via webinar, livestream, or in-person) and made available after the fact. On-demand programs allow you to catch up on past programs you may have missed, at your convenience. These valuable resources include video recording(s) of presentation(s) from the live program as well as downloadable program materials.
How do I Access the 50% Off Discount?
Accessing the 50% off discount is easy. Simply log into the LESA.org website, navigate to the presentation you wish to purchase, and see the price reduce by half. Following a purchase, users will receive an email with login instructions to access their on-demand program on the LESA Classroom. To browse all available on-demand programs, click here.
Who is Eligible for the 50% Off Discount?
Any user of a paid subscription plan to the LESA Library is eligible for the 50% off discount. All users of paid LESA Library subscription plans will automatically see discounted pricing for all on-demand programs when logged into the LESA.org website. This offer excludes users of complimentary subscription plans. Discount effective as September 1, 2022.
If you have any questions, please send us a note at [email protected].