Webinar on Demand – Civil Litigation Series Part 3 – E-Mediation
$95.00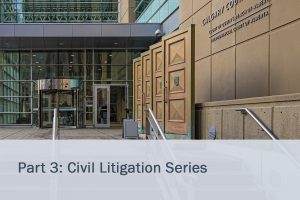 Original Date: January 28, 2021
Price: $95 + GST (Save $255 when you purchase the 10-part Webinar on Demand Civil Litigation Bundle)
Chair: Françoise H. Belzil, Biamonte LLP
Presenter: Brad Mustard, Moe Hannah LLP
Since the start of the global pandemic, we have seen a significant amount of change and have adapted to new ways of working virtually.  Our presenter, Brad Mustard, discusses the process of online mediations.
Topics:
Overview of online mediation
Preparing your client for online mediation
Strategies for successful online mediation advocacy
---
Please enter the first name, last name, and email of the person who will be viewing the Webinar on Demand in the billing details section on the next page.
If multiple lawyers or staff members in your firm would like to purchase this Webinar on Demand or Webinar on Demand series, please contact [email protected] for pricing.
Please note: The views and opinions of the presenters are their own and do not necessarily reflect the views or opinions of the Legal Education Society of Alberta.