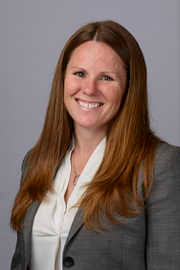 Our upcoming Practice Foundations: Criminal Law program is chaired by Shelley Moore. Shelley was called to the Ontario bar in 2002 and practiced in Toronto for eight years prior to returning to her hometown of Calgary and being called to the Alberta bar in 2010. Shortly after, Shelley began Moore Law Practice. Shelley started her practice as a solo practitioner, but over the years her practice has grown with both articling students and associates. In the last eight and a half years, six of those students have become associates at the firm.
Shelley runs all sorts of trials from theft under to sexual assault to murder. She has conducted numerous jury trials. Ever since she was a child, Shelley knew that she wanted to become a defence lawyer. Her passion for the law and love of being in court advocating for others is easily seen in how she represents her clients.
For lawyers who are new to the practice of criminal law, or for those who wish to revisit the basics, our upcoming Practice Foundations: Criminal Law program delivers insights from faculty whose range of experiences and personal perspectives will bring an interesting depth to the topics covered.  Attendees will:
Gain insight into steps that they may wish to implement into their own files
Consider new areas of the code that they may not be familiar with, or did not know they had to consider
Explore new areas of case law with a fact scenario and understand how to apply common law to their case
Review disclosure and consider what to look for on review
Gain greater understanding of how to communicate with Crown attorneys
This program is unique in that it presents a Crown view, a defence view, and a view from the Bench on each and every topic. Participants will walk away with a solid understanding of how to approach a file from start to finish and develop strategies to apply to their practice.
When asked what she enjoys most about her volunteer experience with LESA, Shelley notes:
"I love the excitement with seminars, I feel rejuvenated any time I attend a live presentation."
Registration is open for Practice Foundations: Criminal Law. We are offering this program as an in-person program in Edmonton as well as online via livestream on October 28.
Reduced Pricing for Students and Newly Called Lawyers
If you are a newly called lawyer (within five years) we are pleased to offer you 10% off your registration. If you are an articling student we are pleased to offer 50% off your registration in this program. Simply click the link to your preferred program format (either in-person in Edmonton or online via livestream) and select the appropriate ticket to receive your discount.
If you are considering a career in criminal law, you won't want to miss out on this offer!