Webinar on Demand – Business Fundamentals for Lawyers Part 2: Financial Statement Analysis
$125.00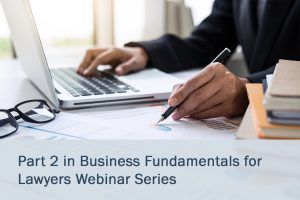 Original Date: November 3, 2020
Price: $125 + GST
Presenter: Darrell Wiens, CPA, CA, MNP LLP
Click here for the full on-demand Business Fundamentals for Lawyers series.
Consider how to evaluate the health of a business, perform ratio analysis, uncover expenses subject to management discretion, and learn what further questions you must ask.  This course assumes a basic working knowledge of financial statements and will focus on the analysis to uncover insights and understand the story behind the numbers.
---
Please enter the first name, last name, and email of the person who will be viewing the Webinar on Demand in the billing details section on the next page.
If multiple lawyers or staff members in your firm would like to purchase this Webinar on Demand or Webinar on Demand series, please contact [email protected] for pricing.
Please note: The views and opinions of the presenters are their own and do not necessarily reflect the views or opinions of the Legal Education Society of Alberta.